We all have a list of New Year's Resolutions. Whether we have physically written them down or just made a mental note of what we'd like to achieve over the coming year.
Ones thing for sure – January the 1st is a chance for change.
Could £83,711 help with your New Year's Resolutions?
Last month it was reported that people were releasing an average amount of £83,711* from their properties. This is a life changing sum of money and everyone has their own reasons for accessing it. With the new year upon us, perhaps it's time to think about how it could help shape 2018.
New Year's Resolution: Clear the mortgage
One New Year's resolution that will probably be high on many lists is to clear the mortgage. In November Bower saw 48% of customers release equity to clear outstanding mortgages or debts. With many interest only mortgages maturing with large amounts outstanding, equity release could be the lifeline that's needed for many in retirement.
For others, it may be a large credit card bill that is crippling the monthly budget. With an equity release lifetime mortgage you're not required to make monthly payments so you can clear the debt and reduce your monthly outgoings.
New Year's Resolution: Be happy
Every year, this is all we truly want. How could £83,711 help? Some people simply tap into their equity to allow them to live their life the way they want. Retirement means you have time on your hands to do the things you love, but it can be costly. The chart below shows that customers released funds to take holidays (9%), purchase holiday homes (4%), and to live their retirement the way they'd planned (5%).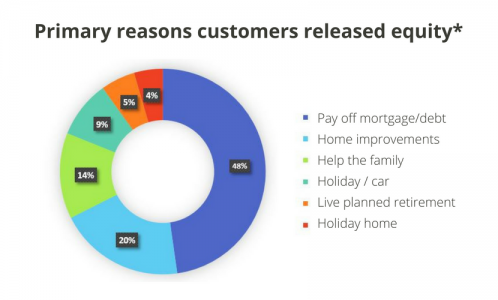 New Year's Resolution: Out with the old, in with the new
If your New Year's resolution is to finally get the conservatory you've been longing for, then 2018 could be the year. 20% of customers used their money to carry out home improvements. These renovations usually include a new kitchen or bathroom. While others used it to prepare for old age by adding a downstairs toilet or stair lift.
New Year's Resolution: Work your way through that bucket list
The ultimate retirement bucket list is a great way to spend retirement! A fantastic opportunity to fulfil your dreams of going on a Caribbean cruise, see the Northern Lights, or even have a go at scuba diving or snorkelling. But these things can be costly. 5% of those who released equity in November said they wanted the funds to be able to live their planned retirement. Start ticking off those bucket list entries and make 2018 an adventure!
What are your 2018 New Year's Resolutions?
You'll have your own New Year's Resolutions and your own reasons to think about equity release. It may be that you've had an expensive Christmas and need a little extra to help with the monthly payments. Or maybe your one of the 14% who want to help out the family next year. Help the grand-kids onto the property ladder or help clear the university fees. Whatever your reasons to release equity, or even if you're just interested to find out your calculation of what you could release, Bower are here to help guide you.
Tick one thing off your New Years list and get in touch.
*Bower Data November 2017. Terms and Conditions apply